Homes England is in the process of appointing a demolition contractor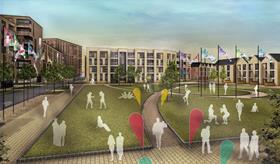 Demolition works set to make way for the 2022 Commonwealth Games village are expected to start in Birmingham this summer.
Initial works on the village (pictured) are expected to kick off in the coming months, with demolition set to get underway in June.
The village is set to be built on the site of the old University of Central England and Birmingham City University (BCU) campus near Perry Barr greyhound stadium.
The site is now partially owned by Homes England and is part of a wider housing programme in the Perry Barr region that is expected to deliver up to 3,000 new homes in the area.
A spokesperson for Homes England, the new name for the Homes and Communities Agency, the process of appointing a demolition contractor was underway.
The village, which will include accommodation, dining, medical, transport and essential services for athletes and team officials, will be situated on a 24ha site at Perry Barr off the A453 Aldridge Road.
Up to 6,500 competitors and officials will be housed in around 1,000 new homes in the village, consisting of a mix of one and two-bedroom apartments as well as three- and four-bedroom townhouses.
After the Games, the accommodation will be converted and become available as a mixture of homes for sale and market rent as well as for social and affordable rent.