London developer voices concerns over glut of speculative office space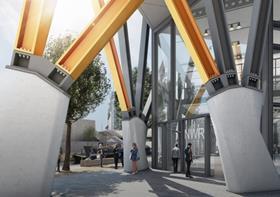 Derwent London has said it may slow or defer development of its 240,000 sq ft office scheme in Paddington following the Brexit vote.
Demolition work has completed at the Brunel Building (pictured) and enabling works were expected to complete by the end of next year, with the building due to complete in 2019.
However, the London-focused developer plans to monitor office occupier demand for the next few months before making a decision by later this year on the timetable for the Brunel Building.
Derwent London added that there is 13m sq ft of office space under construction in the capital of which only 45% is pre-let and all of it is due for completion in 2019.
The firm expects that much of the 7.1m sq ft of speculative office development in London will be delayed or reduced on the back of lower occupier demand.
Yet, Derwent London believes London is a resilient market with an ability to adapt.
In its half-year results the developer posted a 75% fall in pre-tax profit to £98.5m for the first half to June, compared with £405m last year.
The company attributed the fall to fair value movements, property revaluations including a £12.8m negative mark-to-market impact from interest rate swaps during the first half of 2016. This is a direct result of the falls in gilt and swap rates that have occurred in the six month period.
Derwent London added that it had a number of consented schemes and appraisal studies, including 275,000 sq ft of office, retail and theatre space at 1 Oxford Street, that account for 13% of its portfolio which the firm did not plan to commit to for the time being.
Robbie Rayne, chairman at Derwent London said: "It is early days since the EU referendum but London remains a major global city with significant attractions and potential for the future. Derwent London has a flexible and dynamic business model and a strong balance sheet with low leverage which enables us to respond to changing economic conditions."