The developer, which is on-site with four schemes, has no new schemes planned for starts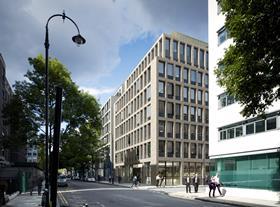 Derwent London is the latest developer to report a slide in profit on the back of a fall in its property valuations.
The London-focused firm posted a 93% decline in its pre-tax profit to £54.5m for 2016, down from £780m the previous year.
Revenue for the year was also down 5% to £194m, from £205m the previous year.
Derwent London also reported that it had no new major schemes planned for starts this year.
A lack of "suitable opportunities" to replenish the firm's pipeline meant that its only acquisition last year was the long leasehold interest on part of The White Chapel Building in East London.
Derwent London is on-site with four major projects including its largest to date, 80 Charlotte Street (pictured), on which demolition is underway.
The developer said it had made substantial headway in de-risking its development pipeline primarily via lettings during the year, which included pre-letting 133,000 sq ft of space at 80 Charlotte Street to engineer Arup.
The project comprises three buildings providing 380,000 sq ft of office, residential and retail space. Arup has taken 41% of the main building.
Arup is also planning to purchase 8 Fitzroy Street which it rents from Derwent London for £197m.
John Burns, chief executive at Derwent London, said: "This complex transaction further de-risks Derwent London's development programme, and is evidence of our asset management and letting skills, the desirability of our product and the advantage of owning a cluster of property in an attractive location."
Derwent London has two projects not onsite for which it has planning approval - 1 Oxford Street and Monmouth House in East London totalling 400,000 sq ft of office, retail and theatre space.
Robbie Rayne, Chairman, commented: "Despite economic and political headwinds last year, today's results demonstrate the strong progress made by Derwent London in 2016, providing evidence of the underlying strength of our business and the quality of our people and portfolio."
Derwent London added that it expected the current economic uncertainty to continue as negotiations over Brexit were likely to be protracted, but so far the UK had been "surprisingly resilient".