Strong lettings period and half year results give developer confidence to proceed with a new scheme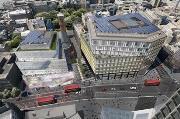 Following a strong first half of 2017, Derwent London is pressing ahead with the detailed design and early procurement on the next development in its pipeline Soho Place W1, formally known as 1 Oxford Street.
The firm, has seen its pre-tax profit jump 48% in the first six months of 2017 to £146m, up from £98.5m last year.
However, Derwent London in its latest half year results for the six months ended 30 June 2017 reported turnover fell slightly to £99.4m from £101.4m for the previous year.
The firm also reported its property portfolio valuation had risen slightly to £4.84bn.
This is in contrast the situation in February when it posted a 93% decline in its full year pre-tax profit to £54.5m for 2016, down from £780m the previous year. The London-focused developer also reported at the time that it had no major schemes planned for starts this year.
Now the firm has said that despite an uncertain political and economic background "businesses continue to believe that London will remain a major and open European and global city," and following a successful lettings period during the first half of the year it had confidence to push forward with its next project.
John Burns, chief executive at Derwent London, said his company had made progress with de-risking its pipeline of developments and that: "We have achieved a record £23.4m of new lettings in the first half".
The 285,000ft2 mixed-use scheme is located above Tottenham Court Road's forthcoming Crossrail station, which is due to open in less than 18 months.
Derwent London said it was engaging with potential contractors for the project which it expects to start on site in the second half of next year. Development of Soho Place W1 is expected to cost £260m and the firm expects to get access to the site later this year.
In addition, the firm said it had submitted planning applications for two further West End projects.
The schemes are at 19-35 Baker Street W1, a joint venture project with The Portman Estate and Holden House, 54-68 Oxford Street W1. However, the firm said it was unlikely to start on site with these developments before 2020.
Meanwhile, Derwent London has completed the redevelopment of the White Collar Factory on Old Street Roundabout earlier this year and now has three schemes still under construction in the west end –The Copyright Building due to complete this year and the Brunel Building and 80 Charlotte Street, which are both due for completion in 2019.