Work on the development will start in early 2019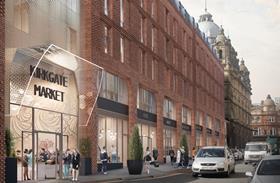 Town Centre Securities (TCS) has been selected by Leeds City Council to develop a major new scheme worth £20m.
Work on the site on George Street in the city centre is due to start in the first quarter of 2019 with completion scheduled for 2020.
It will consist of a single, newly constructed building containing 117 separate aparthotel units - 82 studios, 31 one-bedroom and four two-bedroom units.
There will also be nine ground-floor units for a range of commercial uses, including shops, cafes, restaurants and bars.
It will be undertaken as a partnership between TCS and Leeds City Council, with the latter assuming 50% ownership of the completed development. The overall investment by the council is estimated to be £12.9m.
TCS, which is also headquartered in Leeds, has a portfolio valued at over £380m. It owns properties in the city, as well as London, Edinburgh and Glasgow, primarily consisting of retail, offices and car parks.