Littlewoods Building suffers damage to west-wing clock tower, floor and roof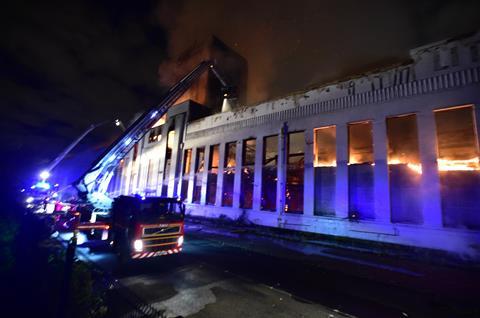 Fire damage to the huge art deco Littlewoods Building in Liverpool was limited to the west wing of the structure, but included its clock tower roof and floors, developer Captal & Centric has said.
The 1938 structure is at the heart of £50m proposals for a film-studio complex, drawn up by ShedKM, which had been due for submission to city council planners later this year.
However the practice said it was unsure how the timescale for the project, which has the backing of government agency Homes England, prospective tenant Twickenham Studios, and Liverpool City Council would be affected by the blaze.
Capital & Centric co-founder Adam Higgins said he was hopeful the building's most prominent elevation could be saved.
"While there is damage to the floor and roof, the walls of the west wing and overall structure seem intact," he said.
"We'll know more once we can get inside, but we're extremely hopeful that we'll be able to save the iconic structure that people see from Edge Lane.
"The building is so important to the social heritage of Liverpool and has always been at the heart of our plans to create a hub for TV and film. We won't let this put us off."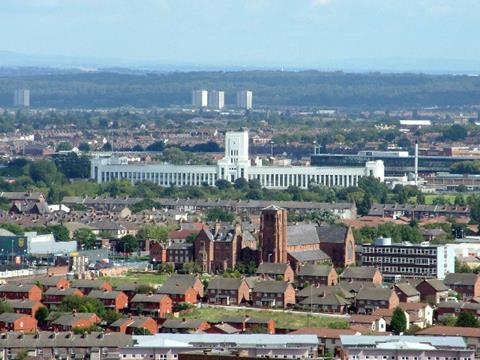 Higgins said his firm had been "floored" by the outpouring of goodwill for the plans to restore and redevelop the buildings, which were designed for Littlewoods by Gerald de Courcey.
"This is a setback, but we won't let it hamper our ambitions for Littlewoods to be the home of Liverpool's creative industries," he said.
Liverpool mayor Joe Anderson said the fire was "devastating and depressing news" but that a visit to the site had underscored to him that the impact was "not extensive".
"The damage has been concentrated in the wing of the building that contains the iconic tower, in the end furthest away from Edge Lane," he said.
"The fire mainly damaged the wooden internal structures, wooden partitions and staircases. Hopefully the retaining walls and supporting steel is intact.
"With luck, this iconic Liverpool landmark, which survived the second world war, can be restored."
ShedKM managing director Mark Sidebotham said he had not been able to visit the site and was waiting for updates himself.
The practice has a long association with the building and has worked up residential conversion plans for both Urban Splash and Capital & Centric before the latest redevelopment proposals.
As recently as June this year, the studio plans had been expected to be up and running in 2020.