Jersey-based Investin sounds out Tower Hamlets council on residential skyscraper scheme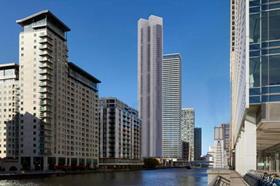 Jersey-based developer Investin is sounding out Tower Hamlets council on plans to build a KPF-designed 70-storey residential tower just outside Canary Wharf.
Investin – which is developing nine residential projects in London, including South Bank Tower, which Mace is constructing – is proposing building the 505-flat scheme on Admirals Way in the Docklands.
Investin submitted an application to Tower Hamlets council last Monday for a scoping opinion on its proposed environmental impact assessment for the scheme, which has been drawn up by URS.
The scheme could be one of a clutch of residential towers planned for the Docklands area, including Canary Wharf Group's 58-storey Diamond Tower and Berkeley's 35-storey South Quay Plaza.