Firm also reports drop in turnover in 2011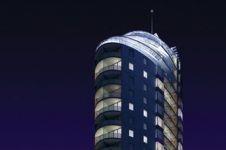 Devereux Architects crashed £1.9m into the red in 2011 its latest set of accounts reveal.
In accounts filed at Companies House Devereux Archtiects Limited reported a crash from a pre-tax profit of £184,000 in the year to 31 December 2010 to a pre-tax loss of £1.9m in 2011.
The firm also reported a fall in turnover from £5.8m in 2010 to £5.1m in 2011.
During 2011 the firm incurred a one off cost of £779,000 from the closure of its North Eastern offices.
In the accounts director Darius Umrigar said the "ongoing downturn in market conditions" led to the losses for the year.
He said the company's main economic risks were ongoing reduced availability of credit and decreases in public sector capital spending. Plus, he added there was a downward pressure on pricing.
Despite the losses only three of the eight listed directors waived their right to remuneration, down from four in 2010 when the firm was still in profit.
The firm's parent company, Irish engineer PM Group, reported a sharp fall in profits from €7.3m in 2010 to €2.1m in 2011. Plus, it reported a 16% drop in turnover to €175.8m over the period.