Norwich-based £20m-turnover steelwork contractor falls into administration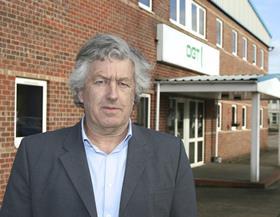 The administrator of stricken Norwich-based £20m-turnover steelwork contractor DGT Structures has axed 90 jobs at the firm, after placing it into administration on Friday.
Administrators McTear Williams & Wood has retained 29 DGT staff to complete a number of existing contracts.
Chris Williams of McTear Williams & Wood (pictured in front of DGT's Head Office) said the administrator was now seeking a sale of the business.
He added: "We already know of a number of interested parties and will be talking to them straight away with the aim of agreeing a sale of DGT's business and assets shortly."
DGT specialised in the manufacture and supply of structural steelwork, providing structural steel, roofing and cladding throughout the UK.
It was founded in 2008 and formed from the the acquisition of DGT Steel & Cladding from administration by a consortium of businessmen including Andre Serruys and Van Thurston.
McTear Williams & Wood said in a statement: "Despite substantial investment of new funds at the end of 2013 together with other measures taken to bolster the balance sheet, the company's credit rating has been significantly downgraded.
"The company has continued to find cash collection difficult and has suffered from creditor pressure building rapidly and as a result Joint Administrators were appointed on 21 February 2014."