But overall group posts solid results, with revenue stable and profit rising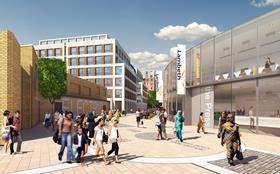 Morgan Sindall's construction business has posted a dip in revenue and operating profit as the firm said it was still hit by tight margins and "difficult" trading conditions, which are expected to continue through to next year.
In its half-year results, announced today, Morgan Sindall's construction and infrastructure business posted revenue of £567m, down 4% on £593m over the same period last year.
Adjusted operating profit fell 8% to £5.9m, giving an adjusted operating margin of 1% - broadly the similar to the 1.1% the firm posted over the same period last year.
The firm said trading conditions for the construction and infrastructure business "remained difficult throughout the period", with a "combination of lower margins from work tendered in 2012-2013 and cost inflation".
The firm added: "At a time of improving general market activity, [this] has provided some significant on-going challenges particularly in the construction activities."
The firm said trading conditions were particularly difficult in London and the south of England, with "inflationary and delivery pressures […] providing significant management challenges".
The firm added: "Looking ahead, no significant improvement in performance and margin is expected in the second half and the on-going challenges are expected to remain.
"However, the growing proportion of contract procurement through negotiated, framework and two-stage tendering in the market provides confidence of a higher quality of future work in the medium and longer term."
Overall, Morgan Sindall Group posted revenue of £998.5m in the six months to 30 June 2014, down 2% on £1.019bn over the same period the previous year.
The firm posted pre-tax profit of £13m - up from £1m over the same period last year, when its performance was hit by a £13m write-down on a clutch of problem contracts in its construction business.
Operating profit stood at £14m over the period - broadly similar to the £14.8m the firm posted over the same period last year, prior to the £13m write-down.
The firm's order book was up 14% on the same period last year to £2.7bn.
The firm pointed to the continued growth of its urban regeneration business, which posted £3.5m in adjusted operating profit - up from £400,000 for the same period last year - with revenue rising 24% to £42m.
Morgan Sindall chief executive John Morgan said: "The first half has seen an important shift in the balance of our profits, with an increase in the contribution from the urban regeneration business.
"This trend is expected to continue into the second half and beyond and reinforces our long-term strategy of focusing on both construction and regeneration activities.
"For the remainder of 2014, the operating environment for general construction is expected to remain challenging with no easing of pressure on margins.
"However, with continued positive momentum anticipated within both fit out and urban regeneration, the group remains on track to deliver results for the full year in line with the board's expectations."
Morgan Sindall - 2014 half-year results
Group
Revenue: £998.5m (-2%)
Adjusted pre-tax profit: £14.2 (-8%)
Construction & Infrastructure
Revenue: £567m (-4%)
Adjusted operating profit: 5.9m (-8%)
Fit-out
Revenue: £195m (-8%)
Adjusted operating profit: £5.5m (+10%)
Affordable Housing
Revenue: £193m (+4%)
Adjusted operating profit: £2.7m (no change)
Urban Regeneration
Revenue: £42m (+24%)
Adjusted operating profit: £3.5m (HY 2013: £0.4m)