Number of homes built each year will have to be increased by half to achieve target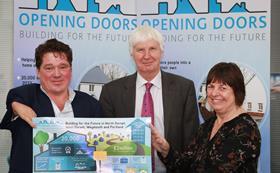 A new campaign has been launched in north, south and west Dorset in an attempt to build 20,000 new homes in the county by 2033.
North Dorset Council, West Dorset District Council and Weymouth and Portland Borough Council have launched Opening Doors – Building for the Future, a programme which will include more intervention at local level to boost the development of more homes of all types.
The campaign will include working with developers, landowners and housebuilders for more schemes; helping more Community Land Trusts use £2m of funding for affordable housing; the possibility of a Local Authority Trading Company or joint ventures to build houses and use council land for homes; and a Home Ownership Register to help people find properties to be launched in the new year.
It will also see the consideration of a council-led mortgage scheme, interventions to kickstart stalled developments; moves to see more schemes with planning permission built; applications for government grants, working more with SME builders and developers and identification of more brownfield sites.
To reach the 20,000 target, an average of around 1,176 homes will need to be built every year across the three council areas during the period from 2016 to 2033 – up from an annual average of 737 over the past five years.
Councillor Graham Carr-Jones and NDDC council leader and housing portfolio holder (pictured left) said: "We are facing major housing shortages with demand outstripping supply.
"Opening Doors is about seizing the initiative and implementing any measures we can at a local level to help play our part in solving the housing crisis."