Redevelopment of the city's The Gates shopping centre green lit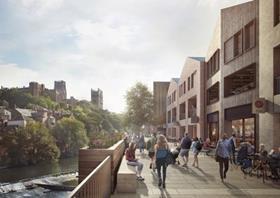 A £30m redevelopment of The Gates shopping centre in Durham city centre has won planning approval.
The scheme by investor Clearbell Capital includes a new riverside promenade featuring 35,000 sq ft of restaurant space and 253 student accommodation bed spaces. A further 23 retail units will also be refurbished plus the creation of enhanced entrances and public realm.
Work will start early next year and the centre is scheduled to open in two stages in 2018.
Manish Chande, senior partner at Clearbell, said: "Once complete, it will provide a great boost to the local economy, transform the centre and provide a sense of destination and place within the city.
"We are now focusing our efforts on securing occupiers for the development and looking forward to seeing the scheme come to realisation in the next couple of years."