Energy firm courts Chinese partners for £14bn nuclear new build project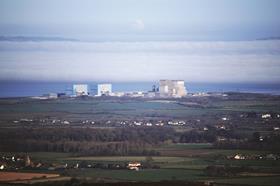 French power giant EDF is negotiating the sale of an almost 30% stake in the project to build Britain's next wave of nuclear reactors.
According to reports, the group is seeking to spread the cost of the £14bn scheme at Hinkley Point, Somerset, and is in talks with Chinese energy providers, including China Guangdong Nuclear Power Corporation.
In June a consortium of Laing O'Rourke and Bouygues won the £2bn civils job to build the first of two nuclear power stations at Hinkley Point for EDF.
The news comes as the deadline for final offers on nuclear developer Horizon approaches at the end of this week.
German power firms Eon and RWE put Horizon up for sale in March, and three bidders are understood to be interested.
One is from Toshiba Westinghouse, China's State Nuclear Power Technology Corporation, and US energy company Exelon.
A second bid is a joint effort between French nuclear developer Areva and China Guangdong Nuclear Power Corporation.
The third is a stand-alone bid from Hitachi.