Planning has been granted for student accommodation in Edinburgh for developer Select Property Group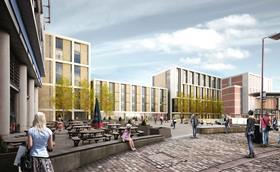 Developer Select Property Group has secured planning permission for a £41m student accommodation development at Fountainbridge in Edinburgh.
The building, due to be ready in September 2017, will house 261 self-contained studios, a 5,000 sq ft social hub area including private study rooms, a movie room and gym. It will be operated by Select Property Group's Vita Student arm.
The development will also feature three retail and leisure units and marks the final phase of the Fountainbridge Regeneration scheme.
Mark Stott, CEO of Select Property Group, added: "With eight residences operational and four more sites in development across Glasgow, Newcastle and York, we're looking forward to adding another award winning residence to our portfolio north of the border and supplying the unmet demand in this fantastic city."