Careys walks away from £70m Manchester project
Troubled developer Elliot Group has given investors four weeks to save the third scheme stalled by a fraud investigation into its founder Elliot Lawless.
Construction of the £70m tower The Residence (pictured) in Manchester has ground to a halt while the developer writes to investors asking them to "accelerate" their payments.
A spokesperson for Elliot Group said the period to raise funds in order to restart the job would be "about four weeks".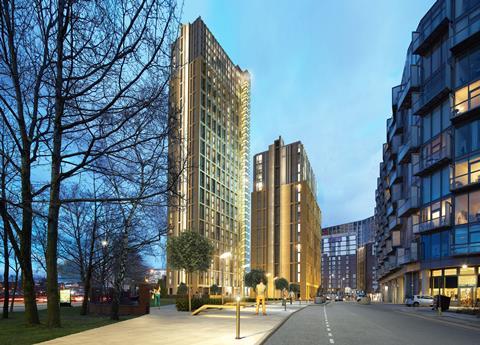 The 34-storey residential tower, the Liverpool-based firm's only project in Manchester, is already well over a year behind schedule following the collapse of its main contractor Forrest in 2018.
Careys was appointed to finish the project in early 2019 but the contractor has now left the site after institutional investors removed their backing.
The Elliot Group spokesperson added: "We have called a moratorium whilst we finalise funding for the project's build-out, a task that has been made more difficult, of course, by the police's on-going investigation. Institutional funds are waiting for the investigation's conclusion before re-engaging with us so we are writing to the scheme's original investors this week to request that they bring forward their final payments.
"In essence, we're asking them to make a payment of their balance each quarter for the next year and will pay them interest on each deposit. It's not extra cash, just what they had agreed to at the outset, but on an accelerated timetable."
Elliot Group founder Lawless and Liverpool Council employee, believed to be its regeneration chief Nick Kavanagh, were arrested in December as part of a fraud probe launched by Merseyside Police, with £200,000 in cash found in Lawless' city centre flat. Neither men have been charged.
Two other projects worth a combined £350m have been stalled in similar circumstances, which are among at least seven of the developer's projects currently underway.
Liverpool-based contractor Vermont stopped work on the £250m Infinity and £100m Aura residential and student accommodation schemes last month after the projects' preferred debt funder, Maslow Capital, pulled out following the investigation.
Lawless also gave investors of those schemes four weeks to raise the funds needed to revive them, a deadline which was missed last week.
A spokesman for Lawless said the talks for those schemes are now "in the hands of lawyers", with an update expected next week.