Pipeline is £39m less than this time last year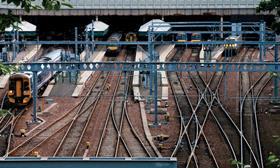 Energy remains the biggest sector by spend, with £191bn in committed infrastructure investment, KPMG analysis shows.
Transport is second with £135bn, with rail – including High Speed Rail – accounting for two-thirds and roads making up 21% of planned spending.
Other sectors the National Infrastructure and Construction Pipeline – KPMG Analysis report found to be major players in the pipeline were utilities (£67.4bn), education (£19.2bn), housing and regeneration (£13.2bn) and communications (£10.8bn).
Richard Threlfall, KPMG's UK head of infrastructure, building and cconstruction, said: "A close look reveals that the current infrastructure pipeline is split across a wide range of sectors and regions.
"We are broadly encouraged by the government's commitment to improving infrastructure across the UK and the recognition of the need to invest in power generation, transport and housing. However, there is always scope for greater investment given the significant benefits of doing so."
The report also questioned the pipeline's ability to guarantee future infrastructure expenditure for the construction industry due to the fact funding is committed in set five-year blocks meaning value "fell out" each year.
The latest report found the firm found the pipeline of investment from 2017/18 up to the end of 2021/22 currently stands at £463bn, down from £502bn this time last year.
The reduction is largely accounted for by the fact that the current pipeline has one fewer year in it than the 2016/17 to 2021/2022 period analysed in 2016.
But the report also said the current pipeline is "robust" as a result of government's efforts to continuously improve the methodology and accuracy of committed infrastructure spending.