Mott MacDonald, URS and Bechtel all join forces to work on Severn Barrage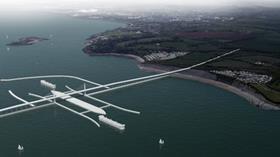 Engineers Mott MacDonald, URS and Bechtel have partnered with developer Hafren Power to work on the plans for the £25bn Severn Barrage.
Also, working on the project are engineer Arup and global logistics firm DHL.
It's not been decided whether the partners will be paid in fees or equity in the project yet and no formal contracts have been signed.
Hafren claims the barrage will generate16.5 terawatt hours per year of electricity, enough to meet 5% of the UK's electricity needs.
The plans would require government approval to be built but so far the proposal has received a cool reaction from government ministers and MPs who have criticised the lack of detail in Hafren Power's plans.
Tony Pryor, chief executive of Hafren Power, said the firms were "working hard to provide further details of construction, environmental and business impacts and mitigation" to government.
He added: "These companies have successful track records in delivering large infrastructure projects and are bringing considerable expertise and momentum to the process."