Frise is leaving fit-out and interiors association FIS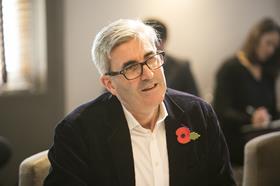 David Frise has been appointed as the new chief executive of the Building Engineering Services Association (BESA).
He has been combining the roles of head of sustainability at BESA and chief executive of the construction fit-out body FIS for seven years.
Frise (pictured) will take up the role immediately but will also continue in his role at FIS for a short period to help manage the transition to his successor.
A former nuclear submariner, he left the Royal Navy to become managing director of a building engineering services contractor.
BESA president Tim Hopkinson said: "David is a well-known and respected industry figure, who brings enormous experience to the role. He also brings vital continuity, as an existing senior member of staff and former MD of a member company, along with a fresh perspective thanks to his time leading the FIS."
Frise said his key priorities would include stepping up the BESA's role as a leading provider of technical standards and guidance.
He said training would be another priority so that member companies could access the skills they needed to support technical developments.
Paul McLaughlin stepped down as chief executive of BESA after breaking his back in a bicycling accident in November last year.