It is currently on track to deliver five schemes across England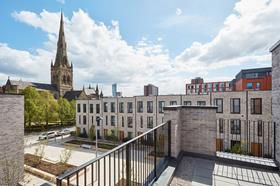 The English Cities Fund – a partnership between Homes England, Legal & General and Muse Developments – has said it is doubling its investment in English towns and cities to £200m.
With initial investment of £100m, the fund is behind five schemes in England with a total value of £1.6bn.
The fund is set now set to double in size to £200m to allow it to target complex, large-scale and long-term regeneration projects.
The fund said it would primarily focus principally on projects which have a gross development value of over £100m after the expansion and that it would seek partnerships with leading councils, regional authorities and other public sector organisations.
The fund is currently behind regeneration projects in Liverpool, London, Plymouth, Salford (pictured) and Wakefield.
It has built 1,300 homes, with a further 2,210 homes still in the pipeline, alongside 820,000ft2 of new commercial development.