The developer is to take a more "hands-on" approach to delvier its £1bn pipeline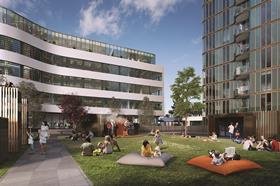 Essential Living has announced it is to end its main contractor framework for its £1bn development pipeline.
The firm is to take a "more hands-on" approach by expanding its in-house construction management capabilities and engaging directly with suppliers and sub-contractors.
Essential Living already has a trade contractor framework in place delivering elements of its projects such as kitchens and bathrooms.
This direct procurement strategy will enable different forms of package management delivery across forthcoming schemes at Greenwich, Acton and Swiss Cottage, Essential Living said.
The announcement comes following a period of spiraling construction costs, which has seen the viability of many projects called into question.
Ray Theakston, Essential Living's construction director, said the decision would allow "greater control" over the management of costs and risk, which the company was "no longer willing to pay" a main contractor for.
He also confirmed the company will increasingly use a range of modern methods of construction. This will remove reliance on labour-intensive on site trades and operations.
Cast director Mark Farmer, which is supporting Essential Living with the implementation of their development programme, said the decision was about "recognizing" the changing dynamics in the construction supply chain.
He added that clients are "questioning" the price lump sum conversion.
Last week the secretary of state backed Essential Living's appeal over Theatre Square, the company's £100m Swiss Cottage regeneration project creating around 200 homes. This followed unanimous support from Ealing Council the week before, backing the £200m Perfume Factory project in Acton, creating 550 new homes.