Figures show the European Investment Bank gave £5.85bn of loans in 2015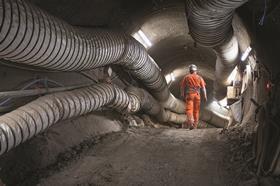 The European Investment Bank invested a record amount into the UK last year to fund vital infrastructure projects.
The bank lent £5.85bn to the UK in 2015, up almost 11% on the previous year's lending.
The loans included a £1bn loan to Transport for London to upgrade existing lines and stations on the London Underground, as well as the construction of several 'cycle superhighways' in the capital.
Other UK construction projects the bank invested in include a campus expansion at Oxford University, as well as several new hospitals in Birmingham and a new children's hospital in Edinburgh.
It also gave £247m to the Priority Schools Building Programme, and £387m to support the government's smart meter roll-out programme.
Chancellor George Osborne said the projects funded by the loans supported "jobs, growth and living standards."
"They are making a real change to people's lives and will ensure that Britain is fit for the future," he added.