The 'Toffees' set to seek public views on new riverside ground and redevelopment of Goodison Park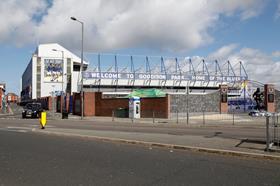 Everton football club has announced it will launch a public consultation next month over its proposal to build a new stadium beside the River Mersey and redevelop its current home, Goodison Park.
The three week-long consultation on the proposed stadium, designed by US architect Dan Meis who was responsible for the Manchester Arena and the Staples Center in Los Angeles, starts on 15 November and will take the form of a series of exhibitions across Liverpool.
It will be the first of two such exercises, the second coming next summer.
The initial consultation will kick-start the beginning of a formal process which will see detailed plans submitted for both the new ground and the redevelopment of its existing stadium (pictured) – which it said could include homes, health, business and education facilities – in the second half of next year.
The club, which has yet to reveal the latest design of the new stadium, said images would be released next year.
Everton's chief executive Denise Barrett-Baxendale said: "This consultation marks a very significant moment as we progress with this project. We would like as many people as possible – and not just football fans – to take part and let us know their views.

"Our ambition is not just to create a new home for a very proud and historic football club but also a new landmark stadium, in an iconic setting, which will deliver huge regeneration benefits for the whole of the Liverpool city region."
News emerged last year that Everton had acquired the site at Bramley Moore Dock for its new ground from Peel Holdings on a 200-year lease for a reported sum of less than £30m.
The dock lies within Peel's Liverpool Waters redevelopment scheme and is within the city's World Heritage Site, hence the likely scrutiny of the club's plans.
Everton, currently lying eighth in the Premier League, said the scheme will help regenerate the city's northern dock area and create around 12,000 jobs during the construction phase.