Liverpool council and football club agree plan for new stadium development at Walton Park in the north of the city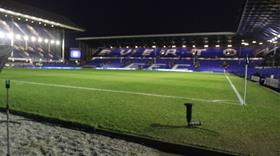 Everton Football Club has struck a deal with Liverpool council that will see it leave its historic Goodison Park stadium for a new 50,000-seater venue at Walton Park in the north of the city.
The council and the premier league side this week said they had agreed to move forward with plans for a new stadium-led development based at Walton Park, which will include community and leisure facilities.
The council and Everton will now work with other partners, including social landlord Liverpool Mutual Homes, to develop ideas for the site, which could lead to a formal planning application being lodged in the next 12 months.
Everton has worked closely on stadium proposals with the council since the collapse of their controversial "Destination Kirkby" project in 2009, which would have seen the club move outside of Liverpool but was eventually rejected by the government.
Everton Football Club and Liverpool council have agreed to move ahead with plans for a new stadium-led development based at Walton Park in the north of the city.
In a statement today, the premier league club and the council said they had reached agreement "to progress a transformational regeneration opportunity" for North Liverpool, based at Walton Hall Park, which will be "spearheaded" by a new stadium.
The council said the scheme would also include new community facilities, with "significant sections of the park will be retained to provide better quality and more varied leisure and recreational facilities".
Financing for the scheme will be led by Everton with support from a number of partners.
Mayor of Liverpool Joe Anderson said: "I am really pleased that we have identified this exciting opportunity for North Liverpool.
"We know that this is an area of the city that requires substantial investment and this project could bring this in a unique form.
"Everton's investment into this area would be the catalyst for a development which could make a real difference.
"We also see this as an opportunity to create an outdoor space with first-class leisure and recreational facilities that will really appeal to the local community. This is a starting point for something which could be a real game changer for this part of the city."
Everton chairman Bill Kenwright added: "On my journey to our home games, as I pass Walton Hall Park, I inevitably think that I am only a minute away from our beloved Goodison
"For several years now, I've also thought, if only it was available for our new stadium, it ticks all the boxes.
"An opportunity to explore the possibility of securing the new home we've looked for, for so long, is hugely exciting to me, but to do that in a way that supports, transforms and sustains our local communities, in our Everton heartland, is such a wonderful, added bonus."
"Of course, there's an enormous amount of work to do – that again, involves fixing a huge financial jigsaw – but we are certain it's an opportunity we should pursue with great commitment, endeavour and ambition."