Planners voted unanimously in favour of Laing O'Rourke scheme this morning
Everton's plans for a new home ground have taken a step forward this morning after Liverpool city council voted unanimously to approve proposals for the club's new £500m stadium.
The council's planning committee all voted in favour of the scheme in a virtual meeting, concluding that the benefits of the 53,000-seat stadium outweighed any potential harm to its grade II-listed site at Bramley-Moore Dock on the banks of the river Mersey.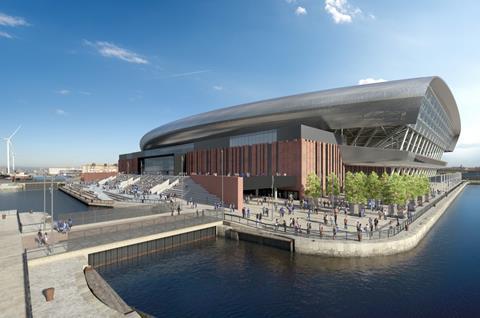 The decision is a breakthrough for the Toffees' new ground and follows the council's decision to push back the vote on the proposals in December last year because of council staff having to work from home during the covid-19 pandemic.
The size of the planning application, one of the largest ever received by the council, was also said to have contributed to the delay because of the volume of paperwork involved in the planning process.
Reacting to the news, Henri Murison, director of business group the Northern Powerhouse Partnership, said the decision was a "no brainer".
He added: "Giving the green light to major shovel-ready infrastructure projects such as this will be key to spearheading a recovery here in the North.
"This is a project which will help put the city of Liverpool in the economic Premier League it deserves to be in post crisis."
Today's decision follows a council report earlier this month which recommended that planning persmission should be granted at this morning's meeting.
The final say on whether the stadium will be built is now in the hands of the secretary of state, Robert Jenrick, who has a 21-day deadline to respond.
But a spokesperson for the council told Building that it is expected Jenrick will waive the deadline and ask for a holding position due to the size of the scheme.
If given the all-clear, it is expected that main contractor Laing O'Rourke will begin construction later this year with Everton hoping to host games at the stadium in 2024.
The club, which at the weekend beat city rivals Liverpool for the first time in a league game at Anfield since 1999, has been at its current Goodison Park stadium since 1892.
The new stadium has been designed by US architect Dan Meis with engineering consultant Buro Happold and technical architect Pattern also on the project team.