Barnet block will feature 'landmark' clock face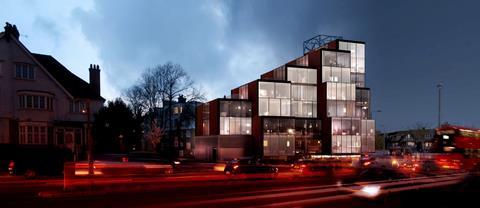 Neubau, an architectural practice and think-tank founded by former OMA architects, has secured planning to build a 'pixelated' residential tower in Barnet, North London.
The project is based on a heavily-trafficked corner on Finchley Road and Hendon Way and will include 28 apartments each broken down into cubes or 'stacked boxes'. Work is due to be completed in 2019.
Commissioned by County Tower Properties, the Tower Station project will replace a derelict former Esso petrol station and historic clock tower.
At the top of the building a large clock face will be placed to become "a new local landmark' and tip its hat to the clock that was there previously.
The exterior walls will be fully-glazed so the residents will have views out to the surrounding area.
A communal space with pocket garden and planting, plus a vertical garden climbing the inner wall, will be created at the rear of the building and the tower will act as an acoustic shield from the noise from the road. The flats also have their own winter gardens.
Neubau was founded in 2014 by former OMA architects Brigitta Lenz and Alexander Giarlis.