A further 380 jobs have gone at Carillion Energy Services in the wake of the government's cuts to the solar feed-in-tariff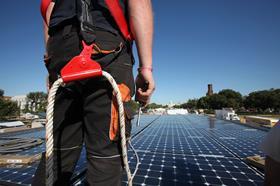 A further 380 jobs have now gone at Carillion Energy Services bringing to nearly 1,200 the number of jobs lost as part of a dramatic restructure of the business following government cuts to subsidies for solar electricity.
Carillion originally predicted it would lose 1,500 jobs from a workforce of 4,500 as part of the restructure, but this has now been revised down to 1,400.
The firm has already lost 800 staff through voluntary redundancies since it said it would make cuts in November last year. But a further 380 jobs have now also gone, bringing to 1,180 the total number of jobs lost.
Building understands that nearly 130 of the latest redundancies have been compulsory with the rest of the jobs lost through redeploying staff and voluntary redundancy.
The job cuts are being made in the wake of an announcement by the government in October 2011 that it would slash the feed-in-tariff (FIT) for solar electricity from 43p per KWh to 21p per KWh, which after a lengthy legal battle came into force in March this year.
Further cuts to the FIT subsidy are expected this summer and autumn as part of a proposed ongoing cost control mechanism being drawn-up by the Department of Energy and Climate Change, which will then see the rate reviewed every six months.
A spokesperson for Carillion said: "The energy services business is restructuring in line with changes in market opportunities following the government's decision to cut the FIT for solar photovoltaic systems, by much more than the industry expected. "
"These job losses are being phased over a period of time as we fulfil existing business commitments. Clearly, we are disappointed that we have to take this action, but everything is being done to help staff through this difficult period," a spokesperson said.
Carillion paid £306m for Eaga, the firm that was then rebranded as Carillion Energy Services, at the beginning of 2011. The restructure is costing Carillion £40m.
The news follows a letter signed by 400 senior figures in the solar industry that was sent to the Prime Minister at the weekend warning him that thousands of jobs would be lost, according to the Independent.
The paper quotes the letter as saying: "The rate [of installations] has nosedived to such an extent that it would now take another 160 years to deliver the amount of solar energy that the Government claims it wants to generate by 2020."