Experts warn that key policy wouldn't help solve housing crisis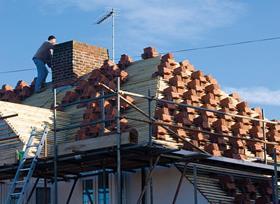 A key election policy unveiled by David Cameron to extend the Right To Buy scheme to 1.3 million housing association tenants has been heavily criticised by industry experts on the grounds it could exacerbate the housing crisis.
The National Housing Federation and the Chartered Institute for Housing have slammed the plans to allow tenants to acquire their home through right to buy, allowing discounts of up to 35% on the value of their home.
Gavin Smart, deputy chief executive of the Chartered Institute of Housing said that the policy could make things worse for those on lower incomes who are struggling to access decent homes at a price they could afford.
Smart said: "The Conservatives say that forcing councils to sell off their most valuable properties would fund this extension plus 400,000 new homes over five years – we fear the figures simply won't stack up. And it could have a huge impact on councils' ability to build new homes, particularly in more expensive areas like London and the south east, where it might actually make more sense for them to borrow against the value of these properties so they can fund more homes."
The National Housing Federation claimed that the plans were "the wrong solution" to the housing crisis. Ruth Davison, director of policy and external affairs at the National Housing Federation said: "We fully support the aspiration of homeownership but extending right to buy to housing associations is the wrong solution to our housing crisis.
"It won't help the millions of people in private rented homes who are desperate to buy but have no hope of doing so, nor the three million adult children living with their parents because they can't afford to rent or buy. To use public assets to gift over £100,000 to someone already living in a good quality home is deeply unfair. Little wonder then that 60% of the public believe that it would be unfair for social housing tenants to get a discount to buy their home while private renters do not."
The extension of the right to buy policy would require housing associations to sell stock to occupants at a discount, with the government footing the total cost of discounts offered.
The Conservatives said they would pay for the policy by forcing local authorities to sell off their most expensive council housing when it becomes vacant, which it expects would raise £4.5bn a year.
The Centre for Labour and Social Studies (CLASS) think-tank said the policy did nothing to solve the housing crisis. A spokesperson from CLASS said: "Britain is in the midst of an unprecedented housing crisis with over 245,000 homes needed to be built every year in England alone just to keep up with demand. This government has done almost nothing to tackle the crisis in housing supply and today's announcement from the Conservatives indicates that they have no plans to get to grips with the real issues concerning voters.
"Previous right to buy policies have been disastrous for social housing and have added significantly to the numbers in housing need. Under this policy council housing stock has haemorrhaged and in many cases homes have ended up in the hands of private landlords rather than owner-occupiers. In London at least 36% of ex-council homes are now rented out by private landlords."
The policy was also criticised by Jones Long LaSalle. Adam Challis, head of residential research at JLL said: "The expansion of right-to-buy may be good politics, but represents terrible policy. This is exactly the kind of short-termist thinking that the countries' 4.7 million* households in social housing don't need, not to mention the same number again of aspiring owners in private renting.
"Right to Buy benefits a select few while condemning the vast majority to longer waiting lists and fewer choices. At a time when we are building barely half the homes this country needs, we need a Government that is interested in genuine solutions to the housing crisis rather than cheap vote-winners."
"This is exactly the kind of short-termist thinking that the countries' 4.7 million* households in social housing don't need" Adam Challis, JLL
The policy was however praised by housebuilder Crest Nicholson, which welcomed the £1bn regeneration fund. Stephen Stone, chief executive of Crest Nicholson said: "We welcome the housing measures announced in this morning's Conservative party manifesto, particularly the extension of right to buy which will in turn support a £1 billion Brownfield Regeneration Fund.
The Brownfield Regeneration Fund will enable councils to clean up previously-developed land and provide the supporting infrastructure to unlock the construction of 400,000 new homes. This will allow companies like Crest Nicholson and its public sector partners to bring forwards innovative and often complex projects in order to deliver more high quality housing. The economic benefits of these measures to this country should not be underestimated.