Construction minister's visit follows launch of sector-boosting task-force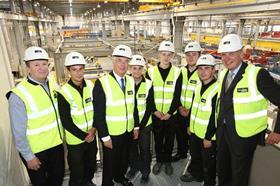 Construction minister Michael Fallon has toured Laing O'Rourke's off-site manufacturing centre in Nottinghamshire.
The visit to the firm's £100m Explore Industrial Park in Steetley follows the creation of an industry-led group aimed at boosting the off-site construction sector.
The initiative, jointly launched by the Department for Business Innovation and Skills and the Department for Communities and Local Government, was floated earlier this month and will see a set of proposals drawn up in time for next year's budget.
Mr Fallon said the Steetley plant was "impressive" and that he believed off-site construction could be "one of the keys" to the future of the building industry.
"It was really encouraging to see the good employment opportunities they are providing for the local community and a pleasure to meet the enthusiastic trainees," he said.
"Kickstarting construction is vital for economic growth - that's why the government has pledged billions of pounds of investment in infrastructure and a package of measures to support the house building market."
Laing O'Rourke chief executive Roger Robinson said many of the components needed for the firm's building and infrastructure work in the UK came from the Explore Industrial Park.
"The facilities are a tangible example of the best of UK manufacturing," he said.