John Pardey is architect on revamp of early modernist film lab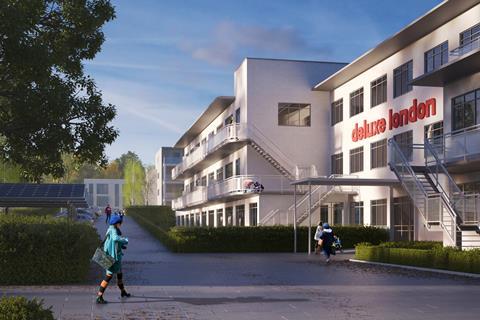 John Pardey Architects has designed a £120m redevelopment of a listed film laboratory, one of only three surviving buildings in the UK designed by the godfather of modernist architecture Walter Gropius.
Privately-owned housebuilder Weston Homes bought Denham Film Studios from Bloor Homes, which secured consent for 224 homes on the 4.83ha site in south Buckinghamshire late last year. Work is about to start on site.
The 1936 Denham Film Laboratory was designed by Walter Gropius, the founder of the Bauhaus movement, and Maxwell Fry. However the grade II-listed building has been a shell since the decision to finally end film production there in 2014.
The listed laboratory is the last-surviving remnant of Denham Film Studios, the brain child of Alexander Korda, who headed Rank Studios during its 1930s and 1940s heyday. Goodbye Mr Chips, Laurence Olivier's Henry V and Brief Encounter are among the iconic British films that were produced and first screened there.
The bulk of the dwellings in the Denham Film Studios development will be new build, with 49 flats housed in the grade II-listed laboratory building. The existing screening room will be retained as a cinema club for residents.
The major alteration to the Gropius-designed structure is a new glass-roofed central atrium, rising from ground to top floor, which has been carved out to let in more light.
Under a masterplan, drawn up by Hampshire-based practice John Pardey Architects (JPA), Weston also has consent for 70 four- and five-bedroom family townhouses and 105 two- and three-bedroom apartments in three new four-storey blocks. The design of the new blocks seeks to complement the art deco laboratory's sleek lines.
The scheme will involve the demolition of all existing buildings on the site except for the laboratory, including the water tank used during the filming of The Dambusters. Extensions to the listed building dating from the 1970s to 1990s will also be cleared away.
Bob Weston, chairman and chief executive of Weston Homes, said: "With its iconic art deco centrepiece, the retained and restored cinema once used by Hollywood directors and its illustrious history this is without doubt the most exciting, glamorous and unique restoration projects Weston Homes has undertaken to date.
"Our vision at the Denham Film Studios is to create an art deco and movie-inspired residential address within easy commuting distance of London via rail or road."
JPA director John Pardey, who has been involved with the project for nearly a decade, said: "This is one of the best projects we have ever worked on. It has been a challenging but amazing experience."