Architect selected for 4.7m sq ft development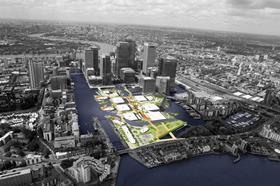 Architect Terry Farrell and Partners has won the job to design the 4.7m sq ft Wood Wharf development for Canary Wharf Group
Canary Wharf Group is revising the masterplan for the 20 acre site since its buyout last year of its previous joint venture partners on the scheme, British Waterways and Ballymore.
Canary wharf describes the site, which will include office, residential and retail development, as one of central London's largest and most prestigious future development sites, and says it wants to attract creative media, technology and telecommunications firms to locate in the development.
Sir George Iacobescu, chairman and chief executive of Canary Wharf Group, said he was very pleased to welcome Terry Farrell and Partners on to the team to develop the design for Wood Wharf.
He said: "The successful development of this site will be another massive piece added to the East End's regeneration jigsaw. The development of Wood Wharf will enhance London's reputation as a business, lifestyle and cultural capital and further shift the City's centre of gravity eastwards."
Sir Terry Farrell, principal of Farrells said: "With the huge success of the Olympics and the rapidly expanding Tech City, this part of London is now much more than a global financial centre.
"What has emerged is an exciting cultural and lifestyle district that is attracting the world's creative and technology companies. Wood Wharf is a rare opportunity to create a new and vibrant mixed use place that responds to its context and draws on other successful parts of this great metropolis."