Spanish contractor to start construction after funding from Green Investment Bank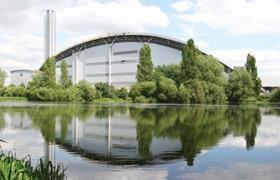 Spanish contractor FCC has signed a £450m contract to design, build and operate an energy-from-waste plant near Edinburgh.
The plant at Millerhill in Midlothian is expected to generate 94,000MWh of electricity once up and running, and has a capacity to process 155,000 tonnes of non-recyclable waste per year.
FCC's environment business was chosen by client Zero Waste: Edinburgh and Midlothian – a joint venture between Edinburgh council and Midlothian council – as preferred bidder for the project almost two years ago, but the project was delayed due to a lack of funding.
The contract has now been signed after the state-owned Green Investment Bank committed £28m to help get the project started. Other investors include Investec, Siemens Bank and Credit Agricole.
Work is expected to start immediately on the scheme, which has a construction value of £142m. Expected to be completed and operational by May 2019, FCC's contract comprises a 31-month construction period followed by a 25-year operation period.
The project is expected to create up to 350 jobs during construction, with a further 40 operational jobs being created upon completion in 2019.
It is anticipated that it will avoid greenhouse gas emissions equalling 30,000 tonnes per year, equivalent to removing 13,800 cars from the road for the lifetime of the project.
The plant will also be combined heat and power (CHP)-ready, so it has the potential to supply excess heat from its operations to nearby homes and businesses.
Swiss firm Hitachi Zosen Inova is the engineering, procurement and construction (EPC) contractor on the project, which will supply electricity to the national grid equivalent to the energy needs of 27,000 homes.
Delivered waste will be mechanically pre-treated to separate ferrous and non-ferrous metals for recycling. The Millerhill scheme is GIB's eighteenth investment in green Scottish projects.
Councillor Lesley Hinds, environment convenor at Edinburgh Council, said: "I am pleased that FCC will now be able to begin work on this state-of-the-art facility.
"The procurement of this project is an example of successful partnership working between the two councils, and will benefit both Edinburgh and Midlothian's zero waste strategies over the coming years."