Government had previously only revealed a total programme build cost of £220m
The government has revealed the total cost of the seven Nightingale hospitals in England will exceed £530m.
The figure was revealed in an update by health minister Lord Bethell, who said the bill including set-up, running costs, stand-by costs and costs of decommissioning across all Nightingales would reach around £532m by 2021/22.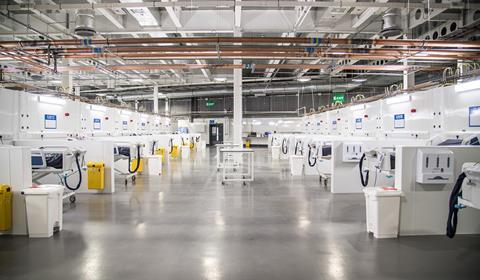 The peer also revealed how much each of the seven hospitals has cost to build – breaking down the total £220m figure that the government had previously revealed.
The Birmingham facility, which was built by Interserve and designed by BDP, was the most expensive of the seven projects, costing £66.4m – but is yet to treat a single patient.
The hospital built at the ExCel in London was the second-most costly – with set-up costs hitting £57.4m, while the field hospital built by Bam in Harrogate, North Yorkshire, had a price tag of £27.3m.
> Analysis: whatever happened to the Nightingales?
>The teams behind the covid-19 hospitals
The Manchester, Sunderland, Bristol and Exeter facilities cost £23.4m, £20.1m, £14.2m and £11.2m respectively.
Details around the costs of other covid-19 field hospitals have already been made public, with the Scottish government saying the NHS Louisa Jordan in Glasgow cost almost £31m to set up.
Documents reveal that Balfour Beatty was paid £4.8m, Kier £4.4m, RMF Health almost £7m and Graham a further £909,000 for their roles on the project.
Keppie, the architecture practice behind the project, earned almost £70,000 for the scheme.
Details of the contracts awarded to build the Dragon's Heart Hospital, located in Cardiff's Principality Stadium, previously known as the Millennium Stadium, and for the alterations and conversion of Bay Studios in Swansea into a surge hospital were made public last year.
ES Global was handed £25m for the Cardiff work, while between £10m and £15m was given to Kier and TRJ for their work in Swansea.
The forecast decommissioning cost for the Dragon's Heart Hospital is £9.73m, which includes reinstating the part of the Principality Stadium where the facility has been built.
Nightingale hospital set up costs
| Site | Set up costs £'000 |
| --- | --- |
| London | 57,411 |
| Birmingham | 66,408 |
| Manchester | 23,471 |
| Harrogate | 27,314 |
| Bristol | 14,209 |
| Exeter | 11,163 |
| Sunderland | 20,102 |
| Total | 220,078 |