Fire damages building under rennovation by Wates as part of £800m Noma development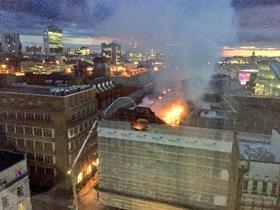 A fire has engulfed a building being renovated by Wates as part of the £800m Noma development in central Manchester.
The former grade II listed headquarters of the Co-operative Wholesale Society was vacant, Noma tweeted, and everyone at the site was accounted for.
At the height of the fire eight fire engines from Manchester's fire department were in attendance. Crew from the fire department were still on the site of the incident this morning.
The cause of the fire is unclear at this time.
GMFR Incident Commander on the scene Paul Etches said the firefighters on the scene had done a "fantastic job" in a "challenging incident".
The fire department employed the services of a drone to pick up heat spots to guide operations.
Tram services were halted in the area as a precaution, but were operating normally this morning.
Noma also tweeted their thanks to Commander Paul Etches and the Manchester fire department for their efforts.
UPDATE: A spokesperson for NOMA and Wates Construction said: "We are working closely with the Greater Manchester Fire and Rescue Service and our on-site team to ensure we can gain access to the building as soon and as safely as possible."