Under-construction 'state-of-the-art' £16m police firearms range near Bristol ablaze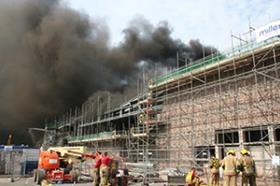 A major fire has taken hold at an under-construction £16m police firearms range near Bristol, understood to be a Miller construction site.
The fire began in the early hours of yesterday morning and was still ongoing this morning, an Avon Fire & Rescue spokesperson told Building.
At the height of the blaze, six fire engines and a number of supporting vehicles were fighting it.
The spokesperson said: "We're still on the scene, firefighters have been there overnight. There are still a number of pockets of fire that we're dealing with."
Miller referred enquiries to Avon and Somerset Police.
Assistant chief constable for the force, Dave Hayler, said: "We're devastated to see the impact of the fire. The training centre is a new state-of-the-art development designed to train firearms officers across three forces. For the communities of Avon and Somerset, Gloucestershire and Wiltshire whose officers will be trained there, it's a tragic setback
"The damage is extensive and we'll be working closely with fire investigators and our own forensic teams to understand what happened to cause such a large fire. The fire service will be on site for some days to come until they're absolutely satisfied that any danger of the fire relighting is exhausted."