Network Rail says some work at scheme was 'not delivered to standard'
Network Rail has admitted that fire proofing work during the refurbishment of Nottingham railway station was "not delivered to standard" after a fire caused more than £5m-worth of damage last year.
Details of the problems emerged in a court case last week which saw a woman jailed for arson after accidentally setting fire to a sanitary bin in a woman's toilet.
Nottingham crown court heard that the fire in January last year could have been contained better but for flaws in refurbishment works – carried out by Taylor Woodrow – including a gap in the roof space above the women's toilet and the use of polystyrene material in the roofing.
A Network Rail spokesperson said: "There was a 'gap' between the ceiling and roof above the ladies toilet which was part of the new build project in 2014 and in which the fire was started. This was behind a partition wall and was not picked up on handback [sic] of the work.
"There was also material used in a small section of roof which we have been unable to ascertain meets the highest standards. This material has been replaced and the 'gap' filled.
"We are sorry that some aspects of the fire proofing work were not ultimately delivered to standard."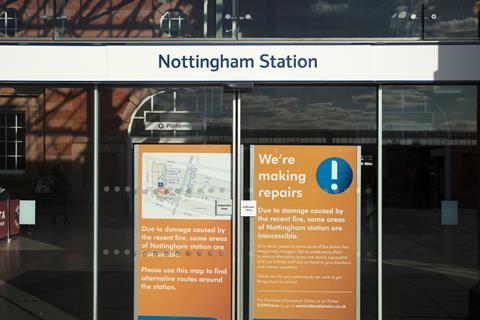 Taylor Woodrow completed the £60m improvement of the grade II-listed station in 2014, which included the refurbishment of the main concourse.
A spokesperson for the Vinci-owned firm said: "We are obviously concerned that the court case has highlighted some issues about the refurbishment works at Nottingham station. We would be happy to review any findings from Network Rail's investigations to help make sure the lessons are learned and not repeated."
Gemma Peat, 34, admitted starting the fire after taking heroin and crack in the toilets. She was sentenced to 25 months.
The court heard that more than 100 firefighters were needed to bring the blaze under control.