NuGen decision sees more doubt thrown over Cumbrian scheme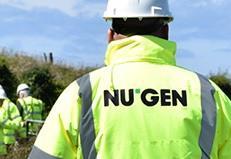 The company behind the £10bn Moorside nuclear power station in Cumbria is cutting more than 60 of its 100 staff as its parent Toshiba continues its struggle to sell the company.
NuGen was originally a joint venture between Toshiba and French multinational Engie but ran into trouble last year when Toshiba's US subsidiary Westinghouse – which had been due to supply the nuclear reactor for Moorside – filed for bankruptcy.
Engie then pulled out of NuGen, leaving Toshiba to try and sell NuGen after posting a $8.4bn loss for the year ending 31 March 2017.
South Korean state-owned Kepco was chosen as preferred bidder over China General Nuclear in December but lost its preferred status in last month after protracted talks hit delays – including a change of chief executive at Kepco and a new government in Seoul.
In a statement NuGen said: "An employee consultation process has concluded and on [Tuesday], NuGen staff were informed that owing to the protracted period of time it has taken to secure a way forward for the Moorside Project, there would be a phased reduction in the headcount within NuGen."
"This consultation served to identify the posts that will be required to finalise and complete a transaction for the sale of NuGen and as a result, the team of over 100 will reduce to fewer than 40."
It said the remaining team would concentrate on selling the business.