Firms have until 18 February to send in bids
Glasgow's Strathclyde University has put a £105m job up for grabs to build two new Passivhaus research facilities.
Contractors have until 18 February to send in bids for the major city-centre scheme, with five candidates expected to be shortlisted.
It will see a pair of buildings built either side of the university's existing BDP-designed Technology and Innovation (TIC) centre completed by Lendlease in 2015.-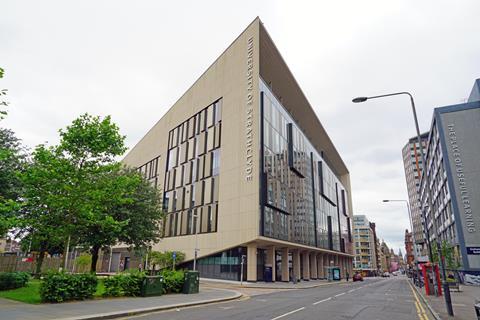 The scheme, which forms part of the university's plans to create a new innovation district in Scotland's biggest city, aims to bring together researchers, academics, and entrepreneurs to catalyse a range of industries including energy, space and pharmaceuticals.
The university, which launched a net zero strategy for its estate in 2020, aims for the buildings to be built to Passivhaus standards.
The larger building, the 20,000sq m TIC East, is expected to be built first, but plans for the 10,000 sqm TIC West are yet to be finalised.
The university is eyeing two options for the smaller building – a £40m new build block or a £30m refurbishment of an existing building to house the new facility.
A contract notice published yesterday contains three lots for contractors covering the potential approaches the university could take. The first £105m lot is for the construction of both blocks as new builds, a second £65m lot would be used to build just TIC East, and a third £30m lot for the refurbishment option for TIC West.
The notice adds that firms must have a turnover of at least £180m over the past three years to bid for the first lot, £120m for the second lot and £40m for the third.
Invitations to tender are expected to be dispatched to shortlisted candidates by 14 March.
The scheme is the latest in a string of new projects launched by the university, including a £65m skills factory next door to Glasgow airport which was awarded to Galliford Try's Scottish arm in June 2020.
A £60m learning and teaching building was also awarded to Balfour Beatty in a £33m deal in September 2018.