Balfour Beatty continues year-on-year improvement, latest figures show
A quarter of the country's 40 biggest contractors and housebuilders have decided to report their gender pay gap data six months ahead of when they are required to do so.
Firms with a headcount of more than 250 have been given until 5 October to publish their gender pay gap reports – a six month extension from the scheduled deadline of 4 April, which was Easter Sunday, because of the covid-19 pandemic.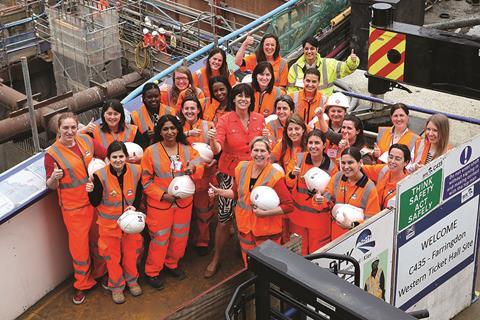 Companies had already been excused from reporting their figures last year because of the pandemic but 32 of the 40 decided to do so anyway.
Gender pay gap reports provide a snapshot of a firm's payment data on 5 April of the preceding year. This means the reports published this year will provide a view of how businesses were performing on 5 April 2020.
Since 2017, firms with more than 250 employees have been required by law to publish annual gender gaps.
Balfour Beatty, Mace, Wates, Galliford Try, Costain, Keller, Tilbury Douglas, Engie and Sir Robert McAlpine have all published their latest reports and have been joined by housebuilders Barratt, Bellway and Taylor Wimpey.
Figures for the country's biggest contractor, Balfour Beatty, reveal that its improvement continued into a third year with the gap narrowing from 26% in 2019 to 17.8% last year.
But of the firms to report so far, Wates posted the largest median gender pay gap at 47.1%. This is up from 36.8% in the figures it posted last year
It was followed by Mace at 38.6%. This means women earn 61p for every £1 that men receive.
By contrast, the smallest median gender pay gap was at groundworks specialist Keller with a gap of 17.6%.
Mace also voluntarily published its ethnicity pay and bonus gap data, which showed a 27.7% median wage gap between white and minority employees.
The firm with the greatest swing toward women was Taylor Wimpey, reporting an 18% gender pay gap in favour of women. The previous year the housebuilder's gap was 4% in favour of women.
The remaining firms all reported gaps of between 17% and 33%.
Just eight firms out of the top 40 listed below did not report last year. They were Bam, Bowmer & Kirkland, Cala, ISG, Mears, Multiplex, Redrow, and VolkerWessels.
At the time of publishing, data for a ninth firm, Berkeley Group, was not available on the government portal.
Top 40 contractors and housebuilders gender pay gap data
| Employer | Median pay gap % (5 April 2020) | Median pay gap % (5 April 2019) | Median pay gap % (5 April 2018) | Difference in median pay gap % (positive number indicates pay gap has widened) | % Women in top pay quartile | % Difference in bonus pay (Median) |
| --- | --- | --- | --- | --- | --- | --- |
| Wates Group Services Ltd | 47.1 | 36.8 | 37.4 | 10.3 | 8.7 | 67.5 |
| Mace Ltd | 38.6 | 37.5 | 37.2 | 1.1 | 8 | 48 |
| Galliford Try Employment Ltd | 32.2 | 31.4 | 34.5 | 0.8 | 8.1 | 44.9 |
| Homeserve Membership Ltd | 32.1 | 34.2 | 29.1 | -2.1 | 22.3 | -103.5 |
| Tilbury Douglas Construction Ltd | 31 | 32.6 | 32 | -1.6 | 6.8 | 73.4 |
| Sir Robert McAlpine Ltd | 30.9 | 29.7 | 32.7 | 1.2 | 9.1 | 3.5 |
| Barratt Developments PLC | 27.4 | 34.2 | 30.7 | -6.8 | 24.7 | 51.7 |
| BDW Trading Ltd** | 0.8 | 0.4 | | 0.4 | 27.6 | -13.3 |
| Engie Services Ltd | 27.3 | 24.9 | 23.2 | 2.4 | 22.8 | 22.2 |
| Costain Engineering & Construction Ltd | 24.2 | 27.7 | 27 | -3.5 | 13 | 50 |
| Bellway Homes Ltd | 18.6 | 20.3 | 24.8 | -1.7 | 21 | 1.2 |
| Balfour Beatty Group Employment Ltd | 17.8 | 26 | 30 | -8.2 | 10 | 28 |
| Keller Ltd | 17.6 | 9.7 | 13.2 | 7.9 | 6.8 | 47.8 |
| Taylor Wimpey UK Ltd | -18 | -4 | 0 | -14 | 32 | 41 |
| Amey Services Ltd | | 31.3 | 30.5 | | 13 | 73.3 |
| Bam Construct UK Ltd | | n/a | 55.2 | | | |
| Berkeley Group | | | 38.9 | | | |
| Bovis Homes Ltd | | 22.4 | 25.7 | | | |
| Bowmer & Kirkland Ltd | | n/a | 48.4 | | | |
| Cala Management Ltd | | n/a | 28.8 | | | |
| Countryside Properties (UK) Ltd | | 33 | 33 | | | |
| Crest Nicholson Operations Ltd | | 20 | 25 | | | |
| ISG Construction Ltd | | n/a | 34.6 | | | |
| J. Murphy & Sons Ltd | | 29.2 | 23.9 | | | |
| J.S.Bloor (Services) Ltd | | 21.1 | 25.1 | | | |
| Kier Ltd | | 14.4 | 20.5 | | | |
| Laing O'Rourke Services Ltd | | 6.9 | 10.9 | | | |
| Lendlease Construction (Europe) Ltd | | 23.2 | 35.8 | | | |
| McCarthy & Stone Management Services Ltd | | 3.6 | 5.6 | | | |
| Mclaren Construction Ltd | | 49.4 | 58.4 | | | |
| Mears Ltd | | n/a | 21.8 | | | |
| Mitie Ltd | | 4.5 | 5 | | | |
| Morgan Sindall Group | | 31.2 | 32 | | | |
| Morrison Utility Services Ltd | | 13.4 | 13.1 | | | |
| Mulitplex Construction Europe Ltd | | n/a | 46 | | | |
| Persimmon Homes Ltd | | 12 | 9.8 | | | |
| Redrow Homes Ltd | | n/a | -0.8 | | | |
| Skanska Construction UK Ltd | | 10.1 | 22.4 | | | |
| Vinci Construction UK Ltd | | 42.9 | 52 | | | |
| Volkerwessels UK Ltd | | n/a | 31.4 | | | |
| Willmott Dixon Construction Ltd | | 42.1 | 42.9 | | | |
* Barratt Developments PLC covers head office and the executive team
** BDW Trading Ltd covers 91% of Barratt's workforce