Eight leading insulation firms warn ministers delay to implementation of new energy efficiency standards will damage industry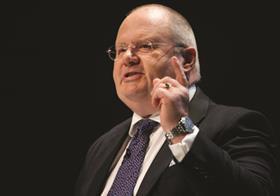 Bosses of eight leading insulation firms have written to ministers warning that delays to the implementation of new green building standards will have a "severe" impact on the industry.
The open letter to communities secretary Eric Pickles and building regulations minister Don Foster (attached, right) calls on the government to urgently implement proposed changes to Part L of the building regulations, that are aimed at setting new energy efficiency standards as part of a trajectory towards the 2016 target of zero carbon homes.
The letter comes as Labour's shadow chancellor Ed Balls also wrote to Pickles to urging the government to implement the changes to the building regulations and clarify the trajectory towards zero carbon.
The leaders of the firms, which include Knauf Insulation, SIG, Kingspan, Honeywell Control Systems, Dow Building Solutions, Superglass Insulation, and Saint-Gobain Isover, warned ministers that the delay to the implementation of the new standards, which were due to come into force this April, having been consulted on last Spring, was causing uncertainty that could damage investment in the industry.
Jayne Law, commercial director, Dow Building Solutions said: "It will be a serious disappointment to those committed to a greener future for the UK as well as a potential blow to the economy if the clear support within the UK industry for the introduction of these positive measures is not embraced and taken forward."
John Sinfield, Managing Director, Knauf Insulation Northern Europe said: "The expected amendments to Part L for new build and refurbishment homes offers a real opportunity to increase investment as well as securing job opportunities, and also future proofing the UK's homes against fuel poverty.
"As a manufacturer, we have invested accordingly, but with no government certainty for the industry, the abandoned roadmap to zero carbon represents a significant wasted investment for the energy efficiency sector."
Andrew Warren, Association for the Conservation of Energy director, said: "The long-awaited and much-promised changes to Part L regarding energy standards for new buildings are being delayed - with the impression being given that these will not be introduced or will be watered down.
"If this occurs, the effect on this industry will be severe and damaging, as those who know - the leaders of major companies concerned with this market - testify."