Gleeds, Aecom and Pick Everard announce they have formed consortium for major consultancy framework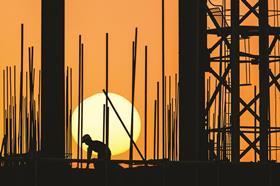 The first heavyweight joint venture - comprising Gleeds, Aecom and Pick Everard – has emerged in the race for Scape's first consultancy framework, worth £350m, Building can reveal.
The joint venture is thought to be one of several consortiums preparing bids for the four-year framework, after contracting authority Scape set a turnover threshold of £125m per annum to bid, prompting interested firms to consider joining forces. Scape began pre-qualifying firms for the framework this week, ahead of a shortlisting process in February and invitations to tender near the end of March.
In a joint statement announcing the joint venture - shared exclusively with Building – Gleeds, Aecom and Pick Everard said the trio would "offer a unique range of framework experience with a 'best in breed' complimentary skill set". The firms have worked together before for clients including Sellafield, the Education Funding Agency and Kent County council.
[We are] looking for the supplier to bring with them their supply chain which we envisage will be the SMEs

Paul Bottrill, Scape
Scape's Built Environment Consultancy Services framework will be open for use by all public sector clients and will cover project management, quantity surveying, architecture, engineering services and strategic asset management.
Scape runs a number of existing frameworks, including major and minor contracting works and facilities management, all of which are highly sought-after as Scape only selects one winner per framework, resulting in a lucrative pipeline of work for those appointed. The Scape framework is one of two major consultancy frameworks being procured in early 2016 - the government's buying arm, the Crown Commercial Service (CCS), is also scheduled to tender its repeatedly-delayed £2.9bn flagship consultancy framework in January.
Matt Carrington-Moore, head of marketing at Scape, admitted there were "elements of overlap" between Scape and the CCS framework, but said he believed "there is room for both". Both frameworks have been criticised for excluding SMEs, due to Scape's turnover threshold and the CCS's recent decision to remove regional sub-lots from its framework.
However, Paul Bottrill, head of procurement and audit at Scape, said: "[We are] looking for the supplier to actually bring with them their supply chain which we envisage will be the SMEs".
In their joint statement, Gleeds, Aecom and Pick Everard said: "Small and medium-sized enterprises (SMEs) will form the vast majority of our supply chain, with specialist international consultants also engaged to provide clients with the broadest range of services."
Richard Steer, chairman for Gleeds Worldwide added: "Gleeds has been developing a strategy for working with Scape over the last two years so I am delighted to be able to announce we have reached an agreement to bid in conjunction with two complementary businesses. Together we offer unrivalled scale-ability. As a team we are committed to providing a proposal that will support Scape's desire to help clients achieve incremental socio-economic value."
Duncan Green, managing partner at Pick Everard, said: "The new BECS framework aims to support the public sector by plugging gaps where crucial expertise is lacking. By forming this incorporated joint venture we are able to provide an enhanced offering, combining the expertise of three firms while at the same time giving clients the security of one highly adept national provider."
Richard Whitehead, managing director, Buildings + Places at Aecom, went on to say: "As members of the joint venture, Aecom, Gleeds and Pick Everard bring specialist expertise, a successful track record and a shared commitment to delivering high-quality services to clients. In a skills-deprived age of austerity, we are ideally placed to serve the needs of stretched public sector organisations."