Just four Green Deal finance plans signed after over 38,000 assessments.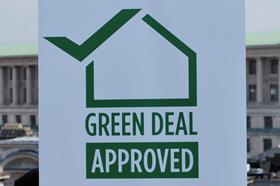 The first official Green Deal figures have revealed that only four Green Deal finance plans have been signed after more than 38,000 assessments of homes have been carried out around the country.
The figures, published by the Department of Energy and Climate Change (DECC), showed there are 241 finance plans pending four and half months of the scheme launched at the end of January.
The figures showed 38,259 assessments of homes had been carried out in that period and that only 4 Green Deal finance plans had been signed.
Under the Green Deal, householders can have an assessment carried out and then decide either to finance energy efficiency measures themselves; apply for finance through the Green Deal; or, if they are eligible, receive finance through the Energy Company Obligation, which will most often come through a local authority or a housing association.
It is the Green Deal finance plan figures that have been revealed for the first time today.
The figures also show that so far £263,452 of cash back payments have been made to households that have taken on measures – a tiny proportion of the £125m made available to incentivise take-up of energy efficiency measures through the scheme.
Only five solid wall installations have so far been done with the cash back element of the scheme.
The vast majority of the measures that received a cash back – 99% - were the installation of boilers.
The figures also showed that £131m of Energy Company Obligation (ECO) finance has so far been spent on 72,525 properties.
The ECO runs alongside the Green Deal to provide support to the most deprived households.
Of the measures funded through ECO, 56% were loft insulation measures; 33% were cavity wall measures; 10% were new boilers; and just 2% were solid wall insulation measures.
The figures also showed there are now 63 Green Deal providers and 1,254 installer organisations accredited.
Over the past year energy minister Greg Barker has repeatedly said the Green Deal will be "transformational" for the energy efficiency market.
In March, he told BBC Radio 4: "I wouldn't be sleeping if we didn't have 10,000 [signed up to the Green Deal] at the end of the year."
He added: "We think we can do much, much better than that."
The Green Deal Impact Assessment predicted that one in three assessments would lead to a Green Deal plan being signed. Government research, published this week, found that a third of people having an assessment did some form of energy efficiency work in their home.
But in May, Building revealed that cavity wall insulation installations had collapsed 97% from April 2012 to April 2013, with most of the drop-off occurring after the Green Deal replaced previous insulation schemes in January.
Plus, the insulation industry has so far lost over 4,000 jobs since the Green Deals introduction.
There has been concern about the take-up on the Green Deal in recent weeks. In Birmingham, where one of the biggest schemes in the country is being rolled-out, only one Green Deal plan has so far been signed after 680 assessments.
There has also been reports that just three Green Deal plans have been signed nationwide despite over 19,000 assessments being conducted.
Sustainability expert David Strong, said low take-up was "deeply concerning" and that he feared firms would "pull out of offering the Green Deal" or go into liquidation.
Today energy minister Greg Barker said the market would "take time" to "find its legs".
He said: "Getting software systems running and finance into place for Green Deal Plans to be signed has taken time, so the numbers here are lower.
"The very first wave of Green Deal Finance Providers have only just got their individual finance terms and conditions in place and gone live with their software systems that operate this whole new product.
"However, now the first five are up and running, the good news is that we expect up to 50 authorised finance providers to be active by the end of the year, massively increasing the access to finance in the market."
He added: "I now expect the number of plans signed to start steadily rising."
Industry reaction to the Green Deal figures:
Bill Rumble, chief commercial officer Green Deal provider Mark Group, says: "It is clearly still early days for the Green Deal and there remain elements of the process to be finalised. That said, we believe there is significant scope for consumer take-up over the coming months and we have already identified and surveyed 10,000 homes that are particularly well placed for Green Deal support.
"As such, we will be launching a dedicated Green Deal proposition to these homeowners over the coming weeks and months. We are confident that we can sign up a significant number before the end of the year."
Paul King, chief executive of UK Green Building Council, said it was "obviously disappointing that more Green Deal assessments have not been turned into finance plans".
He said the scheme now needed incentives to drive take-up. "We simply cannot let this fail - retrofitting the UK's housing stock is too important for reducing energy bills, improving health, creating jobs in the construction sector and avoiding costs of new generating capacity - and no one has a credible alternative," he added.
Paul Reeve, director of business services at the Electrical Contractors Association, said "embarrassingly low uptake" showed the government had not done enough to sell the scheme.
He said: "We would expect interest to start slowly but these numbers should be a wake-up call."
Reeve said the interest rate offered under Green Deal finance needed to be cut to get people to take-up the scheme.
Brian Berry, chief executive of the Federation of Master Builders, said a cut in VAT on energy efficiency work was needed to kick-start the scheme.
He said: "Green Deal finance was supposed to bring about a dramatic increase in the number of people improving the energy efficiency of their property by removing the upfront cost, but the complexity of the scheme and the high interest rate is severely limiting the number of households that see the Green Deal as relevant.
"Instead reducing VAT on energy-efficiency improvement work would create a real incentive and allow small, local firms to carry out the work, which they are currently struggling to win under the Green Deal."
Sustainability expert David Strong, said the figures were "startling" but he pointing out that "hopefully of those 38,000 assessment a significant proportion of those will result in the installation of measures" using other finance.
Chris Hall, Carillion's director of the Birmingham Energy Savers Green Deal programme, said take-up had been in line with expectations.
But he added: "There's more awareness marketing that DECC could do." He said customers were often not aware they would likely have to pay, either through Green Deal finance or from their own money, for some or part of the efficiency upgrade work, which he said accounted for the high number of people having assessments but not taking out plans.
Thomas Heldgaard, managing director of insulation manufacturer Rockwool UK, jumped to the scheme's defence urging "doomsayers" to develop products and services to back the policy.
"While there will be some disappointment that Green Deal and ECO have yet to meet the Government's ambitions, there is no doubt these schemes provide a significant framework for real, long-term, progress towards the UK meeting its carbon targets."
Though he did add that "a few minor adjustments" were needed.
Director at environmental consultancy WSP David Symons said: "Many commentators have been quick to deride Green Deal, but the reality is that today's figures show a new scheme that is at last getting underway.
"The UK needs Green Deal to be a success if we are going to substantially reduce carbon emissions. The figure of 38,000 Green Deal Assessments is a reasonable start, but before we get too excited, this only represents a tiny 0.1% of the UK's housing stock.
"Government will need to keep a close eye on uptake over the coming months, amending the scheme where necessary and importantly, not hide behind political spin and dogma."