Berkeley Homes completes first homes at new Woolwich Crossrail scheme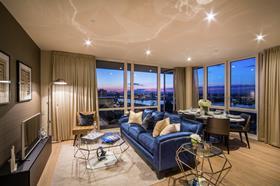 Berkeley Homes has completed construction of the first homes build above a Crossrail station, in Woolwich in east London.
The overall Cannon Square scheme, located over the eastern end of the station, comprises 631 apartments over five buildings.
Around a thousand homes are to be constructed above the new station as part of two separate developments at Royal Arsenal Riverside, one by Berkley Homes and another by Crossrail.
The site is part of the ongoing regeneration of the former munitions factory into a mixed-use riverside development, spanning 88 acres. The first 120 homes have not been completed.
Karl Whiteman, managing director of Berkeley Homes (East Thames), said: "Berkeley has been leading the regeneration at Royal Arsenal Riverside for over a decade. We are delighted to open the first ever development above a Crossrail station, with the completion of a collection of homes in Cannon Square at Royal Arsenal Riverside.

"Crossrail is without doubt the most important new transport infrastructure for London and the South East for a generation. The new Crossrail station will make Woolwich one of the best connected parts of the capital, boosting the local economy as well as providing residents' with direct access to Canary Wharf, the City and the West End."