Adam Khan Architect's Brockholes visitor centre has won a BREEAM Outstanding award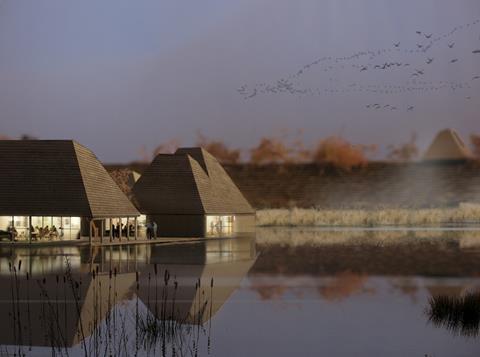 A floating pontoon, with a visitor centre, conferencing and education facilities has been awarded a BREEAM Outstanding award for its sustainable credentials.
The visitor centre pontoon at Brockholes was designed by Adam Khan Architects, engineered by Price & Myers and Max Fordham and was constructed by Mansell Construction & Balfour Beatty Civil Engineering.
It will be the hub of a network of wetland sites in this part of the North-west of England, offering an introduction to wildlife in the region and a link to other sites. It links a mosaic of wildlife havens in the Ribble Valley.
These include 166 ha of semi-natural woodlands and unimproved grasslands, in which the Lancashire Wildlife Trust plays a key management role.
Investment has been made into Brockholes because of the project's potential to stimulate the economies of Preston and Lancashire. It will create several dozen jobs, encourage visitors to the area and improve an area of land currently classified as brownfield.
Funders of the Brockholes project include:
The Northwest Regional Development Agency, through the Newlands programme (£8.6m)
Natural England (£300,000)
Tubney Charitable Trust (£350,000)
Lancashire Environmental Fund (£446,000)
The Environment Agency (£17,000)