Work is expected to start next July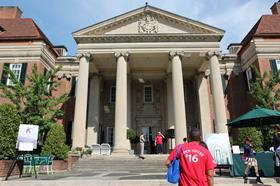 The Foreign and Commonwealth Office has started looking for a contractor for a £55m overhaul of the British Embassy in Washington DC.
The winning contractor will be responsible for the major building repair and refurbishment of three existing buildings at the British Embassy, with the Ambassador's Residence and both the Old and New Chancery Buildings set for a revamp.
The Ambassador's Residence and Old Chancery Building will be temporarily decanted while works are carried out but the New Chancery Building will remain in use during the proposed works.
Contractors have until 21 September to express interest in the project with a shortlist of no more than five bidders expected to be invited to tender on 1 January next year.
The 28-month contract is expected to run from 1 July 2019 until 1 November 2021.
The site is located at the city's 3100 Massachusetts Ave NW.