Hearing also told about complaints about material made by Ardmore in 2015
The former head of marketing at the firm which rebranded a flammable insulation product as safe for use on high rise buildings has said he signed off the product's marketing strategy because he was "relying on other people to give information", the Grenfell Inquiry has heard.
Paul Evans, who worked at insulation manufacturer Celotex between 2007 and 2018, told the inquiry yesterday: "There was no-one coming to me saying, 'we shouldn't be launching this'."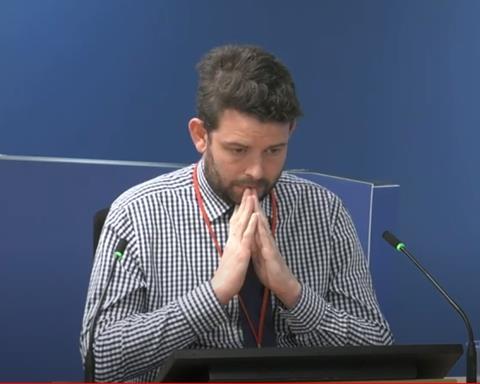 The RS5000 insulation product, which the inquiry has heard was the same as an earlier flammable insulation called FR5000 which was not safe for use on buildings above 18m, was later used on the refurbishment of the 67m tall Grenfell Tower.
Inquiry barrister Richard Millett QC suggested to Evans that the compliance guide for RS5000, part of the product's marketing literature, was a "dishonest and deliberately misleading document, and you knew it was".
Evans replied: "All I can say is when we were launching the product to the sales team and the marketing material was going, there was not anything in me that was thinking that what we were doing was taking that approach."
But he accepted that the marketing material, which repeatedly stated that RS5000 was "acceptable for use in buildings above 18 metres in height", was, in Millett's words, "thoroughly misleading".
Asked by Millett how the material "could go out to the market on your watch as head of marketing", Evans replied: "Only by relying on other people to give information, and decisions have been made and things have been moved on which has led to us promoting the system this way."
The inquiry also heard how, in March 2015, Celotex received an official complaint from developer Ardmore, which had been using RS5000 in a 121-home high rise project.
The complaint was sent after the National House Building Council (NHBC) had deemed RS5000 "flammable" and unacceptable for use on the developer's project, which was well underway at the time.
The letter, from Ardmore's technical director Richard Hunt, said: "Clearly you are an international supplier and manufacturer of some repute and we are amazed that you send products to market that are not suitable for their intended use. You must have test data for these products, which you appear to be reluctant to share with [us], is there some technical reason for your reluctance?"
Hunt went on to say that the NHBC's assessment of the insulation would have "very serious implications in both cost and programme to the project", adding: "Currently we are faced with total removal of your product and substitution with a compliant material , which is clearly a huge issue in both time and money to us."
Celotex later redrafted its marketing literature to better reflect its intended use and held a meeting with the NHBC in May 2015 to discuss the product.
Although the inquiry heard that the meeting became fractious, with the NHBC accusing Celotex's defence of the product as "stupid", the body later published a guide stating that both RS5000 and a rival product called K15 made by Kingspan were acceptable.
The guide was published after the refurbishment of Grenfell Tower was completed, and the NHBC did not have any role in signing off the scheme which led to the deaths of 72 people when the tower's external walls caught fire in 2017.
Celotex admitted in its opening submission to the inquiry that there were "certain discrepancies" between RS5000's successful May 2014 BS8414 test, which is needed to certify it as safe for use on high rise buildings, and the description of that test in the BRE's test and classification reports.
But it added that another test had been commissioned in April 2018 following the Grenfell fire which replicated "as closely as possible" the system described in the BRE test report and in Celotex's marketing literature, and this test had passed.
Celotex also said that none of the key employees involved in the testing development and marketing of RS5000 remain employed by the firm.
The inquiry continues.