Executive has faced increasing criticism over his role on railway debacle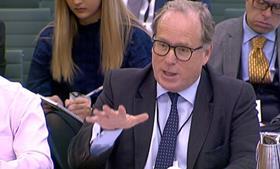 Former Crossrail boss Andrew Wolstenholme has quit BAE Systems after just 12 months at the defence giant.
According to the FT, a spokesman for BAE confirmed that Wolstenholme had left last month for "personal reasons" but declined to provide further details.
Wolstenholme joined BAE as group managing director for maritime and land in the UK in May last year, confirming the move within weeks of leaving the top job at Crossrail in March 2018.
When he left Crossrail, the project was still being described as "on time and on budget".
But since then the scheme has required an extra £2.8bn of public money and will now not open until March 2021 – more than two years after it was supposed to.
Wolstenholme has been increasingly dragged into the firing line over the debacle having been required to appear in front of various inquiries demanding to know what has gone wrong.
He told the Public Accounts Committee (pictured), last month that when he left Crossrail was on track to be delivered on time.
He said: "The programme we put together in March 2018 still found a way through to opening in December 2018. This is, with respect, looking at the dials we had at the time. With the benefit of hindsight, one might have read something different from those dials."
But last month, Crossrail's latest chief executive Mark Wild said there was still a quarter of a million tasks left to complete while he has already admitted that Bond Street station, being built by Costain/Skanska, won't be ready until some time after March 2021
Wolstenholme spent seven years at Crossrail, having picked up nearly £5m in pay during his time there.
At the time of his departure, transport secretary Chris Grayling said his time in charge of the railway "would leave a lasting legacy across the industry".
However, Wolstenholme came under fire in a London Assembly report published in April which said his decision to query why part of his bonus had not been paid was "symptomatic of a culture that, while encouraging unchecked optimism, has also encouraged a denial of responsibility".
And the former chair of the Assembly's transport committee, Caroline Pidgeon, complained that "former chief executives who are supposed to be world experts leading on the project…I think they need to take more responsibility".
Prior to Crossrail, he was in charge of Heathrow airport's Terminal 5. In his role at BAE, he oversaw some of the company's most high-profile UK naval programmes, including the construction of the second of the Royal Navy's two aircraft carriers.