Case follows cash advanced to stricken subcontractor before it collapsed last year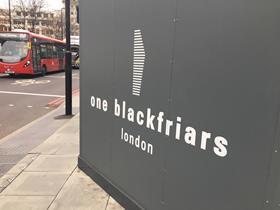 Multiplex has won a High Court clash with the former boss of Dunne Group to recover £4m it advanced the concrete contractor's building and civil engineering arm.
Gordon Dunne's £76m-turnover firm collapsed in July last year with the loss of 524 jobs.
The firm, which was based at Bathgate in Scotland, was working on nine projects for Multiplex, including 100 Bishopsgate in the City and the One Blackfriars residential scheme (pictured) at the bottom of Blackfriars Bridge, but ran into cashflow problems towards the end of 2015.
Multiplex then agreed to shorten the payment cycle to the firm and to off-set sums from one project against liabilities on another as it sought to keep Dunne afloat.
But at the beginning of 2016, the High Court was told that Dunne's business required an "urgent […] sizeable cash injection".
This led Multiplex to advance Dunne Building and Civil Engineering (DBCE) £3m in January last year with parent company Dunne Group and Gordon Dunne himself acting as guarantors. A further £1m was advanced the following month.
Dunne, now managing director of contractor Keltbray's concrete frame business which it launched last summer after acquiring some of Dunne Group's assets, unsuccessfully argued that the terms of the agreement for the cash injections meant that the primary obligations were with DBCE and not with him personally.
Ruling that Gordon Dunne repay the sums owed to Multiplex after finding him liable as the guarantor, the honourable Justice Fraser added: "Regardless of whether he [Gordon Dunne] has sufficient resources to do so – and there is something of a quibble on the evidence before me about that – Multiplex is entitled to summary judgment against him for that sum, together with interest."