Steve Hollingshead's career also includes 25 years at O'Rourke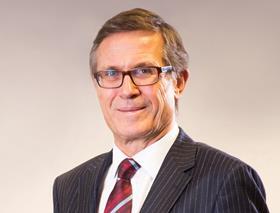 Gallagher Group has named former Laing O'Rourke and J Murphy big hitter Steve Hollingshead as a non-executive director with the Kent builder and civil engineer also turning to O'Rourke for its new finance director.
Hollingshead was previously chief executive of north London-based J Muprhy before stepping down last December after just two and a half years in the role.
The 62 year old (pictured) joined Murphy back in June 2015 after more than 25 years working for Ray O'Rourke – first at O'Rourke's concrete business and, following the firm's takeover of Laing Construction in 2001, at Laing O'Rourke where his time there included spells as the managing director of the firm's infrastructure business and then heading up its Australia arm.
Hollingshead, who is now a non-executive director at Murphy, was replaced by the firm's chief operating officer John Murphy, who is the grandson of the contractor's founder.
Gallagher, which reported pre-tax profit of £7.3m on turnover of £60m in the year to September 2017, has also recruited Catherine Rossiter as finance director from Laing O'Rourke where she is finance leader of the firm's assets business arm.