Sustainability campus becomes first fully operational building within groundbreaking Abu Dhabi development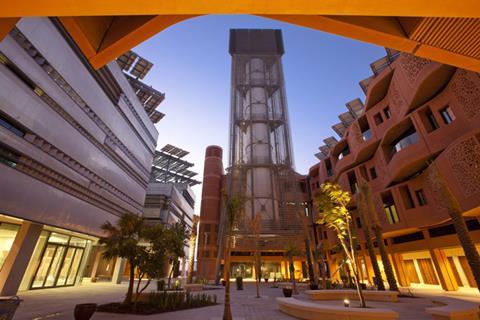 Foster + Partners' Masdar Institute campus building in Abu Dhabi, the first to be fully operational within Masdar City, has been officially opened.
The institute, which will be devoted to researching sustainability, is the first building of its kind to be powered entirely by renewable solar energy.
It will be used as a pilot test bed for the sustainable technologies that will be explored for implementation in future Masdar City buildings.
The institute's postgraduate students are Masdar City's first resident community.
A 10MW solar field within the masterplan site provides 60% more energy than is consumed by the Masdar Institute, with the remaining energy being fed back to the Abu Dhabi grid.
The campus consists of a main building, a knowledge centre and students' quarters, and will use significantly less energy and water than average buildings in the UAE.
The buildings have self-shading facades and are orientated to provide maximum shade as well as sheltering adjacent buildings and the pedestrian streets below.
Windows in the residential elements are protected by a contemporary reinterpretation of mashrabiya, a latticed projecting oriel window, constructed with sustainably developed, glass-reinforced concrete.
Sustainability Now, the free-to-attend online conference and exhibition for sustainable professionals starts on Wednesday 8th December. Hear from industry leading speakers and interact with key associations and suppliers from across the built environment. Click here to register now!