Practice increases space for schoolkids at controversial City attraction
Foster + Partners has reworked part of its controversial proposals for the Tulip tourist attraction after Greater London Authority planners raised "significant concerns" about the scheme.
While power to approve the 305m viewing tower earmarked for a site next to the Gherkin rests with planners at the City of London Corporation, Mayor of London Sadiq Khan's City Hall staff have the chance to feed their views into the process.
Among their concerns expressed last month was the quality of space made available to schoolchildren as part of the scheme – a big selling point of the proposals was free access to 20,000 London schoolchildren a year – and the lack of any other free-to-enter public space at the attraction. Free viewing space is a planning-policy requirement for new tall buildings.
GLA officers said Foster's plans, created for Gherkin owner and billionaire banker Jacob J Safra, offered just 88sq m of classroom space for pupils and 102sq m of ancillary space in a building with 2,535sq m of space for paying visitors and 1,934sq m of bar and restaurant space for booked guests.
They also noted that publicly accessible viewing spaces should provide a 360-degree panoramic view of the surrounds, but that "the proposed educational space would suffer from constrained viewing angles owing to ancillary functions also located on the same level".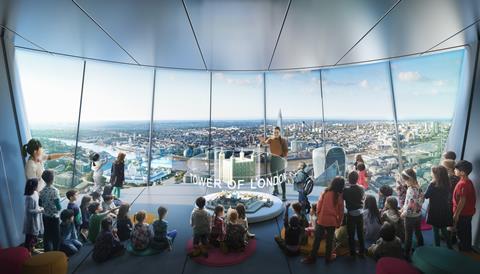 An updated version of the proposals lodged with the City's planning officers redraws the tower's third level – where the schools facilities are to be located – to give an additional 124sq m of space and provide "360-degree views".
A letter from planning consultancy DP9 accompanying the revised proposals said the free-education-facility floorspace now extended to 314sq m, which represented a 65% increase.
"This allows for two additional classrooms, providing a total of three classrooms for free use by London state schools during designated periods and providing a significant educational and social value benefit, as part of the wider package of public benefits provided by the scheme," it said.
Foster's scheme next to his practice's Gherkin building has drawn fire from heritage groups Historic England and Historic Royal Palaces – which manages the Tower of London – as well as from the Greater London Authority since it was unveiled in November last year.
Earlier this month, City of London officials responsible for public space said they cannot support the proposals because the ground-level access for the attraction is not good enough to handle a huge influx of visitors.
Firms working on the scheme include QS Alinea and construction consultant Skanska which built the Gherkin.